Submitted by Bob Bhatnagar on
Don't you wish Siri could do more stuff? Well if you jailbreak your iOS 6 device with evasi0n the AssistantLove tweak will help. There are several distinct areas where AssistantLove adds more capability to the Siri personal assistant.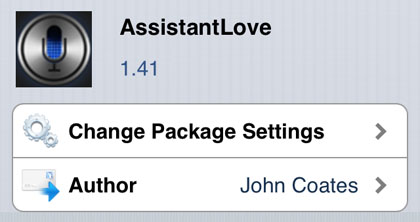 First off, with AssistantLove you can define personal shortcuts to launch apps with your voice. This expands on Siri's built in ability to run an iOS app by request. What's useful is you can set app aliases from Settings -> AssistantLove -> App Aliases. Rename any app to quickly and easily launch it from Siri using a unique name.
The second feature kicks Siri into high gear when it comes to navigation apps. Instead of only recognizing the stock Maps application, you can set AssistantLove to use the mapping app of your choice. Compatible with Google Maps, Motion-X, Motion-X Drive, Motion-X Drive HD, Navigon, TomTom and Waze, AssistantLove automatically detects which apps are installed on your device. Once you choose a third-party navigation app, Siri will automatically use this app to deliver directions.
When it comes to music, AssistantLove integrates your Music app along with Spotify or Grooveshark. This means that when you ask Siri to play a song, your device will look for the track in Spotify or Grooveshark if you don't have it stored locally. This expands Siri's ability to find the music you enjoy.
Last but not least, the ability of Siri to toggle settings is added with AssistantLove. With this tweak Siri is able to switch Wi-Fi, Bluetooth or Mono Audio ON and OFF, as well as turn on the flashlight with a voice request like "Toggle flashlight".
To expand Siri's capabilities, jailbreak your iOS device with evasi0n then get AssistantLove from the BigBoss repo on Cydia for $1.99.