Submitted by Sammy Snyder on
Final Fantasy V is now available for the iPhone and iPad. The iOS version of the popular RPG game features all the original characters, plus the extra dungeon and job classes from the 2006 Game Boy Advance version. The game has also received a slight makeover featuring enhanced characters designs and graphics from Kazuko Shibuya. Other features include: The Tetsuya Nomura-designed optional boss Enuo, Game Center support, and achievements.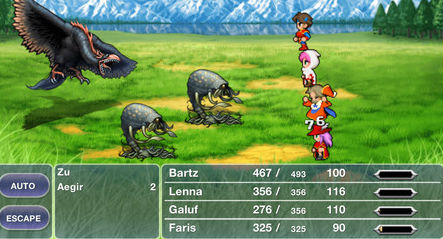 FFV was originally released in Japan on Nintendo's Super Famicom twenty years ago. Two slightly different versions of the game were ported to Sony's PlayStation and Nintendo's Game Boy Advance after its original release. The story follows four strangers who must band together to stop an evil sorcerer named Exdeath.
Final Fantasy V is now available for $16 through the App Store. It requires iOS 4.3 or later, and is optimized for the iPhone 5. Supported iOS devices include: iPhone 3GS, iPhone 4, iPhone 4S, iPhone 5, iPod touch (3rd generation), iPod touch (4th generation), iPod touch (5th generation) and iPad.
Official App Store Description:
"Return to the classic medieval tale of magic, monsters and friendship with FINAL FANTASY V! Twenty years after the original FINAL FANTASY V released in Japan, the classic RPG has found its way to mobile devices!"

"Embark on an epic adventure as four heroes driven together by fate: Bartz and his chocobo companion, Princess Lenna of Castle Tycoon, the mysterious Galuf, and the pirate captain Faris. The crystals that bring peace and prosperity to the world – earth, water, fire, and wind – have lost their power and are on the verge of destruction."