Submitted by Frank Macey on
It goes without saying that mysterious photo leaks from anonymous sources can't always be trusted. Apple itself has been known to develop and test several prototypes before deciding which model to put into production for the masses, so even legitimate leaks don't mean much. Even so, Tactus claims this photo depicts the back of the upcoming budget iPhone coming later this year.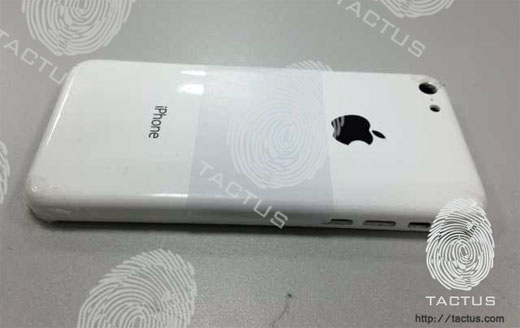 Analysts and the rumor mill have been talking about a less expensive iPhone model for some time, which would presumably make it possible for Apple to further increase the market share of the handset. Not only could a cheaper iPhone make the device more accessible to more people, it would certainly lower production costs for Apple while introducing the App Store and iTunes to more paying customers.
What appears in this photo is a completely polycarbonate plastic back, similar to the iPhone 3G. The side profile is flatter and the device is said to be taller and wider than the iPhone 4. Using previous generation components would keep the price down, possibly in the $300 range when the budget iPhone is released in the fall. When it comes to iPhone 5S rumors, some point to a summer launch. Others predict the iPhone 5S and the budget iPhone will both be announced in October.
Sources at Tactus say the budget iPhone will come with an LED flash, 5-megapixel camera, 32-nanometer A5 processor and a 3.5-inch Retina display. Besides coming in white and black, Apple might even launch the budget iPhone in other colors including blue, red and yellow. October is some months away, so details on a less expensive iPhone model are bound to change. As usual, look out for more leaked photos and parts before an official announcement from Apple.