Submitted by Chad Shmukler on
Shortly after iTunes 7.4 was released, users were greeted by the discovery of a MacRumors forum user which revealed a way to sync custom ringtones to your iPhone for free, simply by renaming files. Immediately following was a great deal of speculation as to whether this "loophole" was left open by Apple intentionally, or if it was a rookie-like mistake.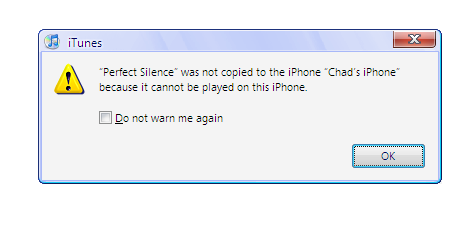 Unfortunately, the latter seems to be the case. Within 24 hours of releasing iTunes 7.4, users were alerted
to the availability of iTunes 7.4.1. Much to the chagrin of some, iTunes 7.4.1 no longer allows the free ringtone workaround. Instead, users are greeted by a message which informs them that their renamed ringtone track "was not copied to the iPhone ... because it cannot be played on this iPhone".
By in large, there's considerable dissapointment from the iPhone community. Sure, no one likes free stuff given and then taken away, but the complaint seems to be more in regards to rapid nature of Apple's response to the ringtone loophole. Many users are criticizing Apple for being slow to issue updates for many outstanding issues with the iPhone that affect iPhone owners (volume problems, syncing issues, etc), yet when faced with a software issue that affects Apple itself - an update was made available within a single day.
For those of you who still have iTunes 7.4 installed, you may want to hold off on updating to 7.4.1 for the time being (for one thing, the only thing it seems to contain is the fix to close the free ringtone loophole).
If you haven't yet read about how to use the loophole to get free ringtones, you won't find details on this method here on iPhoneFAQ (now that it is kind-of-sort-of obsolete we're not going to bother), it was reported here, there, and everywhere so you shouldn't have any trouble finding instructions.