Submitted by Bob Bhatnagar on
Android Wear devices such as the Moto 360 aren't known for their compatibility with the iPhone. This could all change in the future, thanks in no small part to developer @MohammadAG. In a proof of concept, he was able to successfully display notifications on the Moto 360 directly from an iPhone.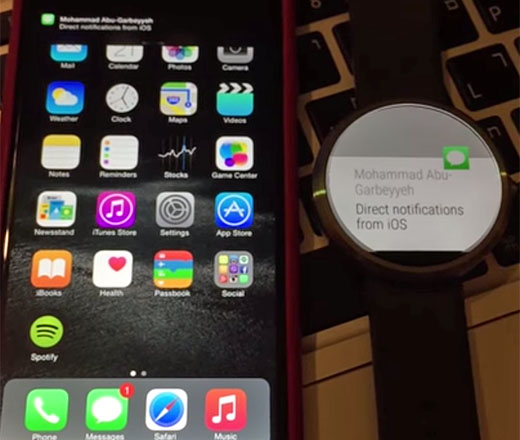 What's more, the iPhone does not have to be jailbroken to make this work. The process utilizes Apple Notification Center Service (ANCS), which makes iOS notifications accessible to third-party accessories via Bluetooth. One example of a smartwatch that already uses this method to display iPhone notifications is the Pebble Watch.
The process requires a custom Android application package (APK) to be installed on the Moto 360, leaving the iPhone and iOS completely stock. While ANCS itself is limited, at least reading iOS notifications on an Android Wear device is possible. It's not clear whether or not @MohammadAG plans to release the APK to the public, or make it open source.
Apple fans can now entertain the possibility of using Android Wear devices paired with iOS. In the meantime, the Apple Watch will probably be revisited at a press event on March 9, with shipping expected sometime in April. In other smartwatch news, Pebble Technology will release its updated Pebble Time color smartwatch in May.