Submitted by Frank Macey on
Pebble Technology has announced its latest smartwatch, the Pebble Time. Besides featuring a new color e-paper display, the upgraded device will include a microphone for responding to notifications. Pebble Time will be fully compatible with over 6,500 existing Pebble apps and watchfaces.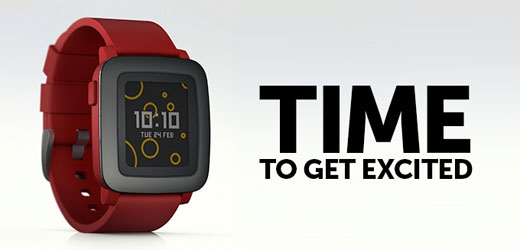 The Pebble connects via Bluetooth to the iPhone 4s or later, and is also compatible with Android smartphones. The project was launched on Kickstarter today, and has amassed over $7 million in just 12 hours. Much like earlier incarnations of Pebble, the Pebble Time will be water resistant and feature long battery life.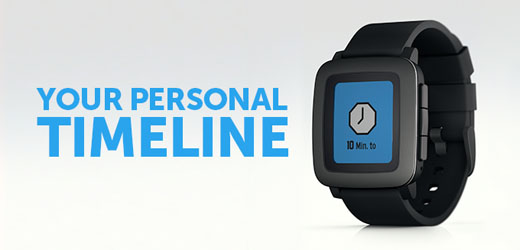 With the color e-paper display always on, Pebble Time is expected to need charging only once per week. The watch is 9.5mm thick, a full 20 percent thinner than previous models. Any standard 22mm watch band can be quickly attached to the Pebble Time with a quick-release pin. A scratch-resistant Gorilla glass face is surrounded by a stainless steel bezel, with three color combinations:
- Black watch case and band with black bezel
- White watch case and band with silver bezel
- Red watch case and band with black bezel
A new timeline interface pulls information from multiple apps, consolidating the data into past, present and future to increase efficiency. A new app menu is also coming, with app faces to deliver content at a glance. Last but not least, the Pebble Time has a smart accessory port, which will accomodate external sensors and smart straps.
As of this writing, there are still over 8,600 watches available for a Kickstarter pledge of $179. Other reward tiers are also available, and regular retail price will be $199.