Submitted by Sammy Snyder on
Pebble CEO Eric Migicovsky announced last week that its customers would soon be able to receive full iOS 7 Notification Center alerts on their smartwatch. And as promised, version 1.3.0 of the Pebble IOS app is now available. Of course this means you will need an iPhone 4s or higher that is running iOS 7 or later to take advantage of the update.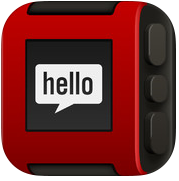 The updated iOS app now allows you to receive all alerts from your device instead of just calls and text messages. This includes any apps that have access to your Notification Center like Twitter, Facebook, Google+, and so on.
You can refer to help.getpebble.com if you need help managing your notifications.
Pebble is also releasing new tools for developers and is working with partners like Foursquare, Yelp and GoPro to release new apps. Pebble's new developer kit will give developers more access to the watch's hardware and allow them to develop apps with gesture-based controls.