Submitted by Marshall Walker on
Update: Version 1.3.0 of the Pebble Smartwatch app is now available.
Pebble CEO Eric Migicovsky announced today that the company's smartwatch is getting an iOS 7-compatible app and a new developer kit. Migicovsky also told Engadget that "it's working with partners like Foursquare, Yelp and GoPro to produce new apps for each."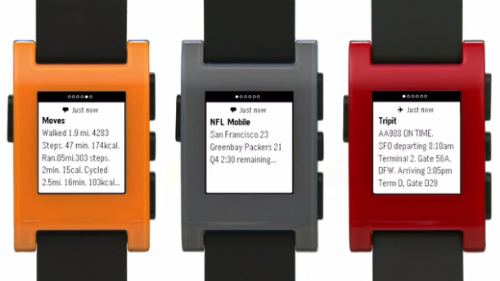 The new Pebble iOS 7 app will allow users to enable their smartwatch to receive alerts from any apps with access to their Notification Center. This will allow anyone with a Pebble smartwatch to receive notifications from Twitter, Facebook, Google+ and so on. Previously users could only receive calls, texts or emails as notifications through their watch.
The new developer kit will give third parties the ability to develop apps with gesture-based controls, and make it easier to make apps compatible on both Android and iOS. Pebble's SDK 2.0 will also feature better support for storing data, which will be beneficial to fitness-related apps.
Pebble owners will also eventually be able to check-in to Yelp and Foursquare directly from their watch, and it will feature a remote control function for its upcoming GoPro app.