Submitted by Chad Shmukler on
Nokia recently revealed a new ad campaign which promotes their devices over Apple's by criticizing Apple's stance on locking their devices. Primarily targeted at the iPhone, Nokia has begun promotion of their new campaign by hanging posters in major cities which feature slogans such as "the best devices have no limits" and "phones should be open to anything." The image below, snapped by a MacRumors forum user, was seen in New York city.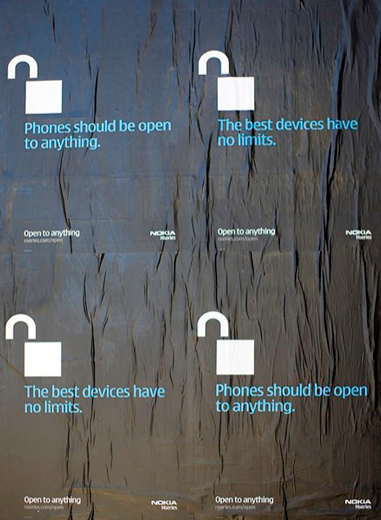 Nokia's suggestion that Apple is cheating customers of their rightful access to their phones is perhaps perfectly timed. Over the last week, countless iPhone owners who had performed unauthorized "hacks" or modifications to their iPhones, such as
unlocking their phone for use on another GSM carrier other than AT&T, had their devices rendered useless by the latest software update. More importantly, current information suggests that this was full intentional move by Apple.
iPhone owners have been urged to update carefully until more is known about the latest firmware version.