Submitted by Sammy Snyder on
Foursquare announced its new updated iOS app today on its blog. The location-based social networking service now offers real-time recommendations for a "small batch" of iOS users. The new feature sends users notifications about the best items to order or about money saving deals based on their current location.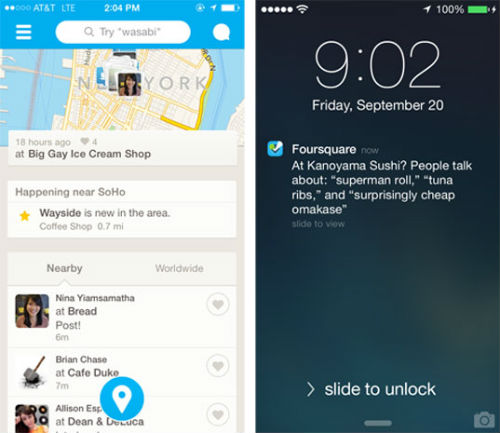 Foursquare promises that the real-time recommendations will be "in everyone's hands" very soon, but for now all users can enjoy the new "Right Now" and "Friends at a Glance" features by upgrading to version 6.4.
The "Right Now" button allows users to check which friends are currently nearby, and the "Friends at a Glance" option offers a quick look at each friend's most recent check-in. Users can also see what their friends have been up to by tapping their profile and viewing their check-in history.
Foursquare is available for free on the Apple App Store. The iOS app allows users get recommendations for the best restaurants, bars, and sights in an area by utilizing data submitted by their friends who also use the service.