Submitted by Bob Bhatnagar on
The Home Sharing feature in iTunes makes it possible to stream an iTunes library directly from a computer to an iPhone, iPad or iPod touch. As long as the iOS device is connected to the same Wi-Fi network as the computer, large iTunes collections can be accessed directly from iOS, without syncing or taking up storage space. It only takes a few steps to set up Home Sharing and start streaming music and video.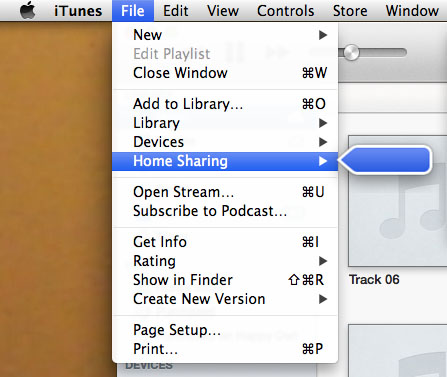 First, open iTunes on the computer and navigate to File -> Home Sharing -> Turn on Home Sharing. Older versions of iTunes (10.2 to 10.7) have the Turn on Home Sharing option under the Advanced menu. Enter your Apple ID and password to start sharing the iTunes library. iTunes media on multiple computers can be shared over the same Wi-Fi network.
Once Home Sharing is activated on the computer, the iOS device must be set up. Navigate to Settings -> Music and scroll down to HOME SHARING. Enter the same Apple ID and password that were used to start Home Sharing on the computer.
Next, pull up the shared iTunes library on the iOS device. For music on iOS 5 or later, navigate to Music -> More -> Shared. Earlier versions of iOS will have the same feature under iPod -> Library.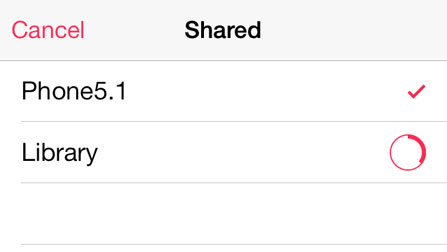 Large iTunes libraries may take a few minutes to appear under Shared. On an iOS 7 device, while the media is being read, a red circle will be drawn clockwise until complete. A red check mark will indicate that the library on the computer is ready for streaming. Once the check mark appears the Playlists, Artists, and Songs from your computer will appear in the iOS Music app. These can be played over the Wi-Fi network while the iOS device is connected.
Once Home Sharing has been switched on, shared videos can also be accessed on iOS by navigating to the Videos app -> Shared.