Submitted by Marshall Walker on
The companion app for the PlayStation 4 game Knack is now available on the App Store and Google Play. Knack's Quest is a puzzle game which gives players the chance to win items that they can use within the console version of the game.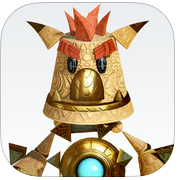 The object of the game is to collect 3 or more of the same type of parts to help Knack grow larger and reach a certain size before the the time limit expires. The app is free to download on the App Store, and is compatible with the iPhone, iPad, and iPod touch running iOS 6 or later.
Knack's Quest is also available for free for Android devices via Google Play.
Knack is a beat 'em up video game for the Sony PlayStation 4 console. Players must help Knack save the planet from an invasion of goblins by using his magic powers which allow him to incorporate substances into his body. The game was an official Launch Day title for the PS4 and is currently available.