Submitted by Sammy Snyder on
Snoop Lion (formally known as Snoop Dogg) has released a "Sticker Camera" app, and plans to release a new game entitled Way of the Dogg for iOS and Android devices. Snoop Dogg's Snoopify Sticker Camera! is a photo sharing app which allows users to "Snoopify" their images with a variety of Snoop Dogg-inspired stickers. Once a photo is Snoppified, users can share them via Instagram, Facebook and Twitter. The app includes several free stickers and booster packs, like the popular Snoop Hood Full Pack, for $1 to $2. The app is compatible with the iPod touch, iPhone and iPad. You can download it now for free through the App Store.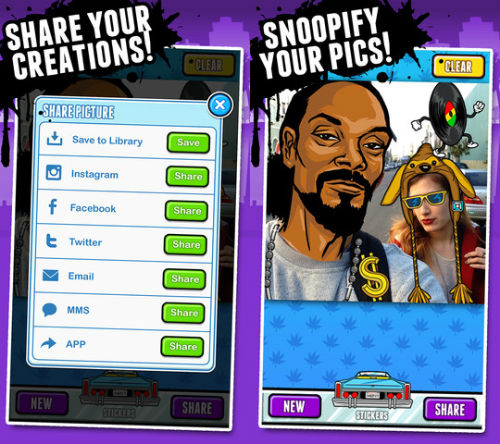 Taking a page from the Shaq Fu playbook, Snoop is also bringing his Xbox Live fighting game Way of the Dogg to iOS devices. The game is described as a "rhythm-action combat game".
"It's the way you live, it's the way you do what you do and captures the beat, the rhythm and the spirit of my music," explained Snoop. "It's not just about who you are ow where you've been, but where you are headed to. This game shows how we evolve as individuals and they've incorporated the journey of my own personal reincarnation as Snoop Lion into my character, the environments and the path that players have to follow."
Check out the trailer for
Way of the Dogg
below.