Submitted by Marshall Walker on
Order Up!! To Go is an addictive management game which allows you to build your own restaurant empire. Like most cooking games you must plan your menu, manage your money and cook your customer's favorite dishes in a timely manner. Before each round you must stock your kitchen with the right amount of food and spices to serve all your customers for that day. The tricky part is you don't know what your customers will order, or how they will want their food prepared. The idea is not to overstock your restaurant while having enough food on hand to feed everyone. Failing to do so will result in wasted or low profits which you will need for upgrades and to hire help in the future.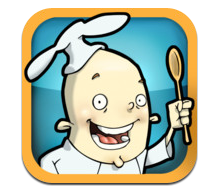 Order Up isn't all planning menus and buying spices, you must use various swiping motions to chop, stir and cut ingredients to prepare various dishes for your customers. The controls are slightly more challenging than other click and point management games, but thankfully they don't muck up the experience.
The various upgrades, mini-games (like cleaning dirty dishes for the health inspector), great playability and fun animations make Order Up one of the best management games I have ever played. Order Up is free with ads, and it does feature in-app purchases, but they don't seem necessary to enjoy playing the game. Order Up!! To Go is available for all iOS devices and requires iOS 4.0 or later. It's rated 4 plus.