Submitted by Marshall Walker on
Apple is continuing the holiday spirit by kicking off its 12 Days of Gifts event in the U.S. for the first time. The 12 Days app is available for free to iOS 7 users in the App Store. The app allows users to download one free gift a day, beginning December 26 to January 6.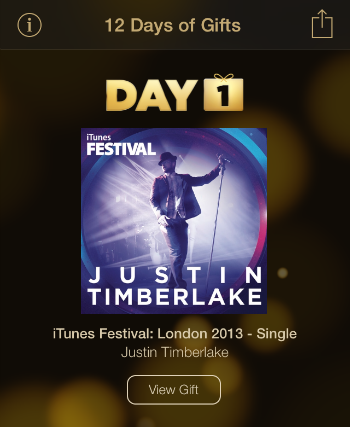 Apple kicked off Day 1 by offering a free download of Justin Timberlake's iTunes Festival EP. The EP includes live recordings of "SexyBack" and "Take Back the Night," and two live videos, "True Blood" and "TKO." The free download will only last 24 hours before it will be replaced by another gift.
While it is unknown what the other 11 free gifts will be, Apple has offered everything from apps, books, movies, and games in previous years. For some unknown reason this is the first time Apple has ever offered the 12 Days of Gifts app in the United States.
The app is compatible with all iOS devices running iOS 7 or later.