Submitted by Fred Straker on
Sometimes capturing stills from a video can be a hassle. Now thanks to the stock iOS Camera app, iPhone photographers can snap still images while video recording is in progress. Once video recording starts, a white circular button appears to the left of the red start / stop button.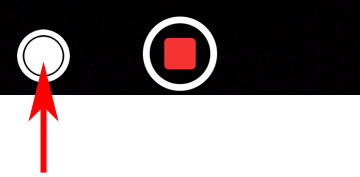 When the iPhone is held horizontally, this still capture button appears below the start / stop button. Of course, once video recording starts the normal shutter release sound effect that takes place when snapping a photo is muted, so it can't be heard in the video.
Photos can be taken without interrupting the video recording and will be added to the Camera Roll. There is one caveat, however when it comes to photo resolution. Stills captured while video is rolling will match the resolution of the video capture, not the normal iPhone camera.
For example, horizontal photos taken with the iPhone 5 are normally 3264 x 2448 pixels in size. Photos captured while video is recording will have 1920 x 1080 (HD video) resolution instead. So the still image feature serves mostly as a live still capture tool, rather than activating the normal camera.