Submitted by Fred Straker on
Despite the incredible quality of the iPhone camera, some basic editing functions are not included in the stock Photos app. For example, while cropping an iPhone Photo is pretty straightforward, there is no built-in way to resize an image. Emailing a photo may provide the preset options small, medium and large, but what about a custom size?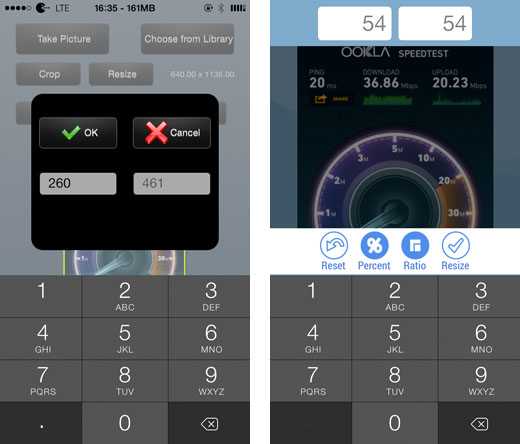 Luckily there are plenty of options in the App Store when it comes to resizing photos on an iOS device. The six free apps mentioned here mostly provide the basics for a one-time resize or infrequent use. There are also five paid apps listed, which often provide more features and a more polished (and ad-free) user experience. The third-party apps here are just a sampling of similar offerings on iTunes, which reduce the megapixel size of an image.
SimpleResizer (free) is pictured on the left above. This app is basic, showing the current size of the photo in pixels after it's loaded from the Camera Roll. Tapping the Resize button brings up a window with the image dimensions pre-filled. Enter a new value in pixels in the left box and the right one will automatically recalculate, preserving the original aspect ratio. Photos can be cropped with SimpleResizer and a custom size can be set. Results can be saved to the Camera Roll.
Crop-Size Image Tool (free) on the right has similar functionality with a different interface. The main difference when it comes to resizing is that an image can be resized by a specific percentage while keeping or ignoring the original aspect ratio.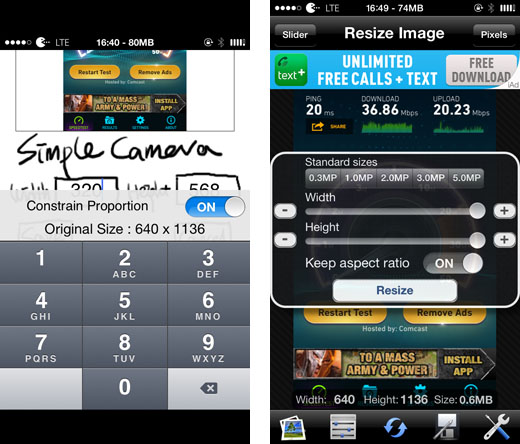 Pictured above are two other free apps that resize photos.
Simple Camera (free) on the left works, but it's not even updated for iPhone 5 screens. Resize Image (free) has a nice feature that sets it apart. Standard sizes can be selected, which resize the selected image to a specific number of megapixels from 0.3 up to 5.0. This is a fast way to resize photos to a particular size.
Other free options:
- Image size (free)
- Simple Resize (free)
Paid options:
- iResize - $0.99
- Photo Resizer - $0.99
- Resizify! - $0.99
- Reduce - $1.99
- OneEdit Pro - $2.99
Ultimately the results may be the same, but some of the paid apps provide more functionality. iPhone photography buffs willing to spend a few bucks will get features such as batch processing and built-in sharing of images to sites like Tumblr, Flickr, and Instagram. Look for the next version of Photos to include more editing capabilities when iOS 8 hits the streets.