Submitted by Marshall Walker on
Google announced today it would be closing Bump and Flock on January 31, 2014. The search engine giant acquired both apps in 2012 and has decided to pull them from the App Store and Google Play. Bump CEO and co-founder David Lieb made the announcement via the official Bump blog on Wednesday.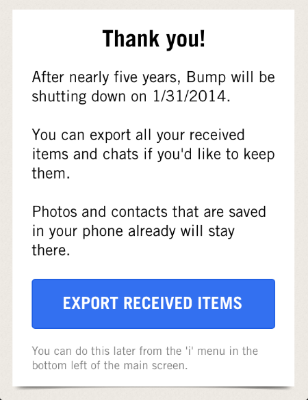 Current Bump and Flock users have until January 31st to export their data from both apps.
"At any point in the next 30 days, simply open either app and and follow the instructions for exporting your data. You'll then receive an email with a link containing all of your data (photos, videos, contacts, etc) from Bump or Flock."
Bump and Flock users can use the blue "Export Received Items" button to enter their email so they can receive a link to download their chat transcripts and files. Photos and contacts previously saved on your device will automatically stay there once the app is gone.
Lieb made it clear that this was not the end for the Bump team, noting they would be joining Google to continue their work of "helping people share and interact with one another using mobile devices."
Bump
was a free
file sharing app
which allowed users to share files by simply bumping their devices together. The app became somewhat obsolete after Apple introduced AirDrop in iOS 7.
Flock was a photo sharing app which allowed users to automatically share images with with friends and family.