Submitted by Bob Bhatnagar on
Looking to bring some of the best features of iOS 7 to older devices, such as the original iPhone or the iPhone 3G? For those iPhone fans who are still rocking these Apple-unsupported devices, Whited00r provides a custom firmware option to modernize their look and feel. Whited00r is fully optimized for the older hardware, and completely customizable by the user.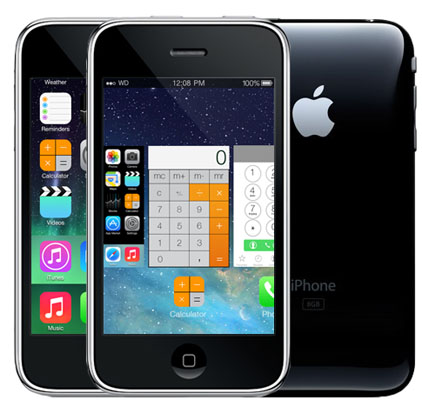 The latest version of Whited00r supports both the iPhone 3G and iPhone 2G, as well as the iPod touch first and second generation. Besides replicating the design and features of iOS 7, Whited00r is engineered for speed. Should the look of iOS 4.2.1 or iOS 3.1.3 be missed, reversing a Whited00r installation is achieved by simply restoring to original Apple firmware via iTunes.
Whited00r supports a variety of iOS 7-style features including Push Notifications, an improved Camera app, multitasking (both iOS 7 thumbnail and legacy multitasking bar), Control Center, and its own version of Voice Control. The custom firmware package also includes built-in support for multiple app stores. The official App Store and Cydia (the jailbreak app store) are pre-loaded, along with AppTimeMachine.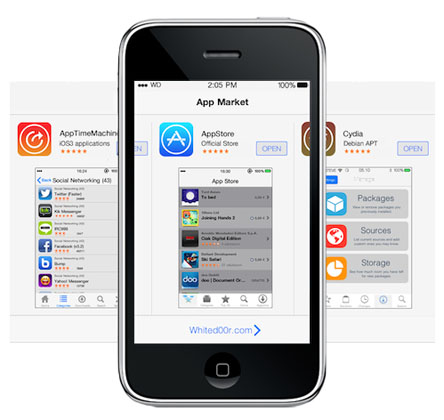 AppTimeMachine is a Whited00r service that promises to offer many apps that have dropped support for older devices. Every Whited00r installation can be finely tuned, thanks to complete customization options and detailed control over system functions. Despite the limitations of the original iPhone and iPhone 3G, the latest version of Whited00r offers video recording, MMS, Control Center, multitasking, Voice Control and jailbreak-level customizations.
Installing Whited00r is a simple two-step process, involving device prep with redsn0w and an iTunes restore to the custom firmware. The best part is that Whited00r is completely free.
Thousands of users are downloading Whited00r every day to breathe new life into their old iOS devices. Grab the latest Whited00r IPSW at the Whited00r website.