Submitted by Chad Shmukler on
As expected, Apple has announced the arrival of the second generation 3G iPhone. The announcement occured just moments ago at this years WWDC (world wide developers conference) at the Moscone Center in San Francisco, CA. Steve Jobs announced the next generation Apple iPhone and all its glory to a crowd of anxious observers who had many a set of cross fingers anticipating the announcement.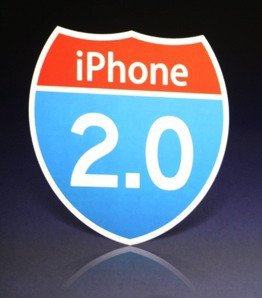 However, despite the formal announcement and the presentation of a ton of new information about the new 3G iPhone, it won't be available immediately as many had predicted. Instead, the 3G iPhone will be released worldwide on
July 11 -- along with the official launch of the iPhone 2.0 software.
Apple will roll out the iPhone in 70 countries (compared to the six it is available in now) over the next few months.
The new iPhone is going to be cheaper -- a lot cheaper. The 8GB model will sell for $199 and the 16 GB model will sell for $299.
Here are a few highlights of the new, 3G iPhone:
3G support, do everything faster (~2.8 times faster)
real GPS
improved audio
smaller, thinner than the first iPhone
shiny plastic rear cover, available in black
flush headphone jack
For full specs on the iPhone 2, you can visit our FAQ for more information.
The new iPhone will be, as one would expect, running the new iPhone 2.0 software which includes a great number of new features -- many of which Steve Jobs showed off today at the WWDC. These new features include contact search, parental controls, ability to save images in email, bulk deletion and moving of emails, an improved calculator, and more. The iPhone 2.0 software will be available in early July. It will be a free upgrade for all iPhone owners and will come at a cost of $9.95 for iPod touch owners.
Apple also presented their mobileme service, which they described as "Exchange for the rest of us". However, to us, MobileMe looks like a much more impressive version of Exchange. It offers full synchronization (both up and down) between a user's iPhone, desktop PCs, notebook PCs, and online account @me.com. And Apple isn't just talking about calendars, email and address books. Cool stuff like photo albums are synced too.
As mentioned, you will be able to get your hands on the new iPhone by ordering it online from Apple or AT&T or you can visit an Apple or AT&T retail store. Expect a lot of customer purchasing pressure, similar to the first iPhone. Hopefully Apple will provide the high supply availability that it provided the first time around to avoid turning iPhone 2 hopefuls away.
Keeping checking back for more news and features on the iPhone 2 as well as all the latest from Apple. We'll be expanding our coverage throughout the week.