Submitted by Chad Shmukler on
Not even a day after the launch of the new iPhone AppStore, there are already almost 150 free applications available to those who have upgraded their iPhone to OS 2.0. Most of the applications download and install in a snap, and to make matters even sweeter, many are incredibly useful.
Apple released the new iPhone OS 2.0 and launched the AppStore yesterday via the new version of iTunes, version 7.7. The reaction to the new OS and the AppStore has been overwhelmingly positive, and it is easy to see why. Between the new features of OS 2.0 and those brought forth by the hundreds of add-on applications now available, iPhone owners are getting a whole new experience from their devices.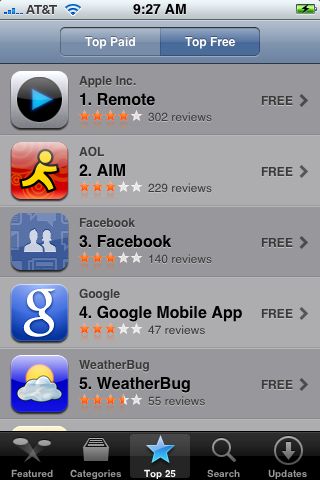 Though many of the applications (especially the games) cost money, as the title indicates, there are already plenty of free applications you can quickly install and enjoy. Here are just a few highlights of the almost 150 free applications already available via the AppStore: