Submitted by Anders Batten on
If you're like me, as soon as you get your iPhone 3G home and unboxed, you're going to want to slap a full body 3G iPhone invisibleSHIELD on it before exposing it to the elements. My current iPhone has been protected by the invisibleSHIELD since a few weeks after I purchased it on release day last year. As my invisibleSHIELD aged, I took advantage of invisibleSHIELD's free replacement policy and got a fresh one, but with the exception of those first few weeks -- I've not chanced not having an invisibleSHIELD covering my iPhone. I'd consider it safe to assume that since the invisibleSHIELD was the best screen protector I found for the iPhone, it will be the best iPhone 3G screen protector as well.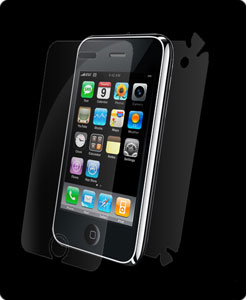 Okay, enough singing the praises of the invisibleSHIELD, I'll get to the point. Unfortunately, you're not going to be able to apply an invisibleSHIELD to your iPhone on day 1 -- but you might get close. Zagg (the company who makes the invisibleSHIELD) has indicated that they plan to begin shipping the invisibleSHIELD the week of July 13th, just a couple of days after the release of the iPhone.
Here's some more good news: Zagg is already taking pre-orders for the 3G iPhone invisibleSHIELD and they're knocking 20% off the normal price.
The bad news? Well, there really isn't any. That's a quicker turnaround than most companies will pull off, and the invisibleSHIELD hard to beat. The only potential worry is getting stuck back too far in the pre-order line (so get your's now). Zagg quickly ships and manufacturers the invisibleSHIELD, but if you wait too long to order, you may be waiting a couple of weeks to get your iPhone 3G invisibleSHIELD.
You can order your iPhone 3G invisibleSHIELD directly from invisibleSHIELD.com. To find the iPhone 3G pre-orders, click on the iPhone 3G section in the bottom right.