Submitted by Chad Shmukler on
When it was announced earlier this past week that AT&T planned to open its retail locations at 8am for the launch of the Apple iPhone, many were perplexed at the lack of a similar indication from Apple. After all, why would Apple allow AT&T to draw the crowds to their stores and forfeit all those direct iPhone sales -- not to mention the oodles of companion purchases? As it turns out, Apple isn't that stupid (surprise, surprise), and will be joining the 8am party along with AT&T.
In a recently dispatched email, Apple has announced their early retail openings on iPhone 3G launch day (July 11th, 2008). The email contains the usual, some snazzy graphics and a one liner (it also includes a picture of a purported Apple employee who appears to have had his head Photoshopped onto his body for no particular reason).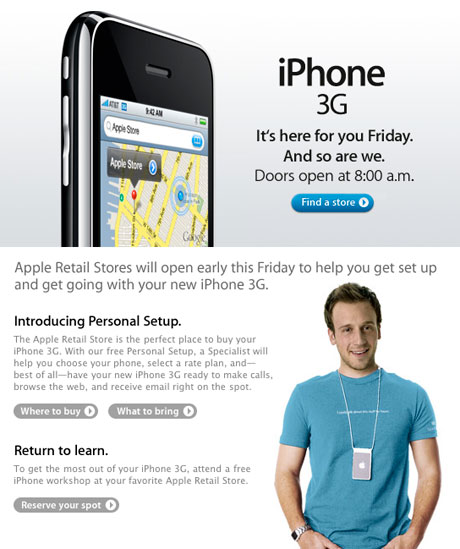 To purchase the new iPhone 3G you'll need to arrive at an authorized retail location -- in the US, this means Apple and AT&T retail locations -- with a valid government-issued ID, a major credit card and your social security number. If you're upgrading from the first generation iPhone, Apple suggests you sync your iPhone with your PC just before heading in to the store.
Apple is suggesting that those hoping to lay their hands on the second generation iPhone arrive early and get in line, indicating that stock is limited per location. However, those of you who waited in line at either AT&T or Apple retail locations the first time around might remember seeing people walk in that evening at 10pm on launch night or even early afternoon the following day only to be greeted by plenty of available stock. Does that mean you don't need to stand in line? Of course not. But, far be it from Apple to create unnecessary buzz ...
After 9am on July 11th, you can check the availability of the iPhone 3G at Apple retail locations.
SPECIAL OFFER: Protect your new iPhone 3G. Pre-order the iPhone 3G invisibleSHIELD now and get 20% off!