Submitted by Chad Shmukler on
Not even a day after the launch of the new iPhone AppStore, there are already almost 150 free applications available to those who have upgraded their iPhone to OS 2.0. Most of the applications download and install in a snap, and to make matters even sweeter, many are incredibly useful.
Apple released the new iPhone OS 2.0 and launched the AppStore yesterday via the new version of iTunes, version 7.7. The reaction to the new OS and the AppStore has been overwhelmingly positive, and it is easy to see why. Between the new features of OS 2.0 and those brought forth by the hundreds of add-on applications now available, iPhone owners are getting a whole new experience from their devices.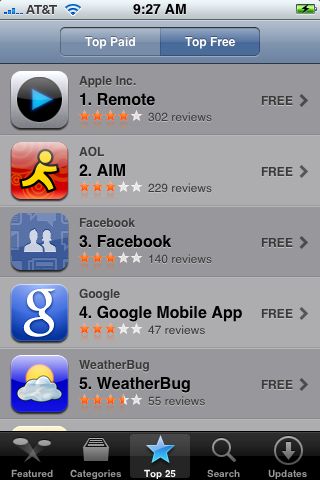 Though many of the applications (especially the games) cost money, as the title indicates, there are already plenty of free applications you can quickly install and enjoy. Here are just a few highlights of the almost 150 free applications already available via the AppStore:
AIM (AOL Instant Messenger)
The popular instant messaging client comes to the iPhone. With a clean, sleek interface, this app looks like an incredibly useful real winner... albeit once a few bugs are worked out.
WeatherBug
Through its nationwide network of automated weather-monitoring stations, WeatherBug gives you graphical access to real-time weather conditions from a location near (very near) you. Includes forecast, radar, and more.
SportsTab
Previously available in WebApp form, SportsTap gives you real-time scores, standings, and statistics for a long list of professional and amateur sports -- and does so via a wonderful interface that is oh-so-iPhone.
Light
Erica Sadun's popular, and menacingly simple, unofficial third party application is now available as an official application. Uses your iPhone's screen to blast bright white light to guide your way. I know two guys who were using this just last night to guide their way around a pitch-black East Budapest train station in the midst of a blackout.
Aurora Feint: The Beginning
One of the few free games currently available via the AppStore, Aurora Feint is a RPG-styled puzzle game that allows you to compete against your friends and build your character. Stunning graphics and excellent game-play.
TypePad
Update your TypePad blog quickly and easily, directly from your iPhone.
AOL Radio
Listen to a long list of internet and terrestrial radio stations on your iPhone
Facebook
Access many of Facebook's features right from your iPhone. Upload photos, chat with friends, check and share the latest updates with all your Facebook friends. This application is already incredibly functional and Facebook expects to add more features over the next few weeks.
Pandora Radio
Possibly one of the coolest applications on the iPhone, and it's free. Those of you that already use Pandora on the web will be familiar with Pandora's features. Pandora lets you build your own custom internet radio station that streams music from your favorite artist(s) directly to your iPhone via your own custom Pandora Radio "station". Listen all day long, free. And if you are already using Pandora, the iPhone App is fully integrated.
Again, these are just a few of the many applications already available free of charge via the iPhone AppStore. There are hundreds of other applications also available for a fee, many of which are available for $4.99 or less. New applications are popping up in the AppStore all the time, so keep checking.
If you're eager to upgrade your iPhone but aren't quite sure how to go about it, read our FAQ on upgrading your iPhone to OS 2.0.
Have a favorite new iPhone app? Tip off others by sharing your favorites in the comments below.