Although Evasi0n opened up iOS 7 for jailbreakers, many of the tweaks are not yet compatible with devices using Apple's new 64-bit A7 chip, including the iPhone 5s, the iPad Air and the iPad Mini with Retina Display. One of the most popular jailbreak tweaks, WinterBoard, is now compatible according to creator Jay Freeman (aka Saurik, of Cydia fame).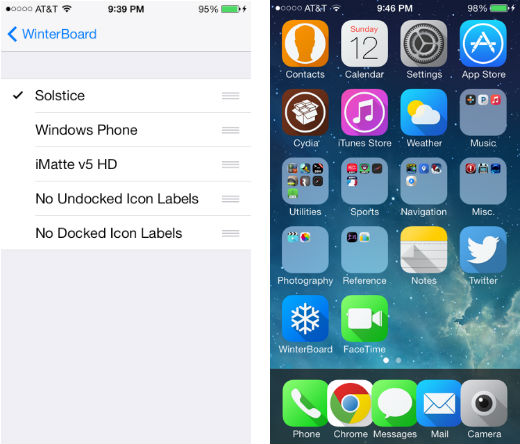 WinterBoard is basically an expansion of SpringBoard that allows the user to apply themes to the iOS interface, which makes it the ultimate tool for customization. With WinterBoard you can change the appearance of your icons by loading various
themes. For example, you could make your interface look like the computer screens on Star Trek, or you could have it look like a Windows or Android phone. There are hundreds of themes available on Cydia, some are free but most cost around three dollars.
You can find WinterBoard under "Themes" which is on the Cydia front page. Once you have it installed you can access it via Settings->WinterBoard. It comes with only two themes - No Undocked Icon Labels and No Docked Icon Labels. These will simply take away the labels beneath your icons. You can download more themes from Cydia and they will appear in your WinterBoard "Select Themes" menu. Install the one you want, respring and you'll have your new look.