Submitted by Fred Straker on
There are actually four different ways to snap a photo with the iPhone camera. Seasoned veterans of iPhone photography will already know these tricks, however newcomers to the device might find this tip useful. Each situation is different, and using one of the four methods below can help capture the perfect image.

The most obvious and commonly used shutter release button on the iPhone is directly in the Camera app. This large, white button always appears next to the physical home button in the camera preview. Taking a photo at the right moment is accomplished by touching the button on the screen.
In some cases, this can be a cumbersome exercise depending on how the iPhone is held. Cold or dry hands might not trigger the shutter release, risking a missed photo. When wearing gloves forget about it, the virtual shutter release button won't respond.
In this case, the physical volume up (+) and volume down (-) buttons can be used. Simply open the Camera app and snap photos every time one of these two buttons are pressed. When the iPhone is held horizontally like a point and shoot camera, the volume buttons can be oriented up for easy access.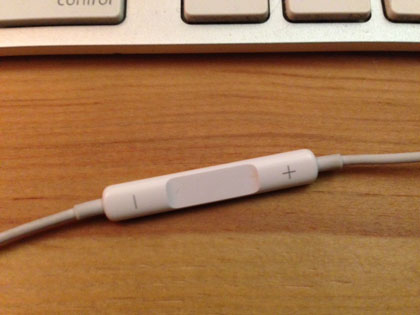 This leads to the third way of releasing the shutter on the iPhone. When EarPods are plugged into the device, the volume up and down buttons built into the microphone also release the shutter. This means that any compatible headphone with volume controls can be used as a remote shutter release on the iPhone. Shooting pictures with the EarPod release means the iPhone camera will remain stable, avoiding any vibration or movement from pressing buttons on the device.
Finally, a camera timer can be set on the iPhone. While this feature is not available in the stock Camera app in iOS 7, there are free third-party apps that serve this function. One example, Self Timer Camera - TimerCamera is free on iTunes. Simply open the app, choose the length of time, and tap start.
After the allotted time elapses, the iPhone will snap the picture. Self timer is a great way to assemble a group of people for a photo, including the photographer!