Submitted by Fred Straker on
While the iPhone 5s shoots 1080p full HD video by default, an upgrade to 2K video recording is now available on the App Store. Ultrakam Pro takes full advantage of the eight megapixel iSight camera on the iPhone 5 and iPhone 5s, capturing pixels well beyond the 1920 x 1080 found in HD video. After all, the main camera on these iOS devices can grab a 3264 x 2448 resolution still image.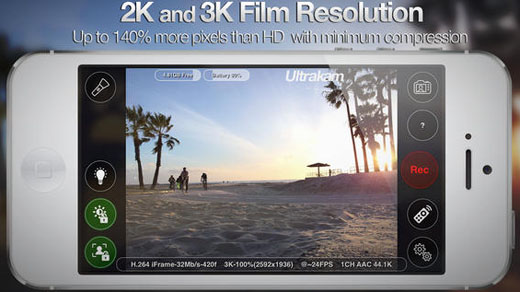 With Ultrakam Pro installed the iPhone 5s can even record 3K video at up to 30 frames per second. For comparison, 2K video clocks 2240 x 1672 resolution and 3K surpasses this with 2592 x 1936 pixel resolution. iPhone 5 owners can use the app, but will be limited to 2K video at 20 frames per second due to the older hardware. Ultrakam Pro can be found on iTunes and is currently on sale for $6.99.
Besides just 2K and 3K video recording, the app sports wide-ranging features to customize video shooting and storage. Time lapse and slow motion capabilities are built-in as well as manual focus, white balance and exposure settings. M-JPEG or H.264 iFrame encoding formats are supported. There is one drawback to high levels of video quality: capturing 2K video at 24 frames per second will consume 3GB of storage for every minute of video.
Videos can be transferred via local Wi-Fi using the embedded web server, or copied with iExplorer or iTunes file sharing. Videos can also be uploaded directly to YouTube using the 4K Quality feature.
Compared to stand-alone 2K video cameras, Ultrakam Pro brings 2K video to the iPhone 5s for a fraction of the price. Here's a more complete breakdown of the app's capabilities:
Main Formats:
- 3K: 2592 x 1936 - 2K: 2240 x 1672 - HD: 1920 x 1080 - HDV: 1280 x 720
Supported Live Action Formats:
Supported frame rates are @~20,~24,~25.99,~30 FPS
- iPhone 5S and A7 chip family: 3K, 2K, HD, HDV
- iPhone 5 and A6 chip family: 2K@~20fps HD, HDV
- iPhone 4S and older: HD,H @~30FPS(only)
Timelapse Support:
Any custom interval in 1 second increment
Playable @~12,~24,~25,~30 FPS
- iPhone 5S and A7 chip family: 3K
- iPhone 5 and A6 chip family: 3K
- iPhone 4S and older: HD