Submitted by Marshall Walker on
iOS 7 changed the way names appear in Messages and the Mail app. First it only displays the first name of a contact in a conversation thread. This can be annoying for users who have more than one person with the same first name listed in their Contacts. You can restore the use of full names by navigating to Settings > Mail, Contacts, Calendars > Short Name. From here you can disable Short Names by toggling the slider, or you can choose one of the other three options: First Name & Last Initial, First Initial & Last Name, Last Name Only.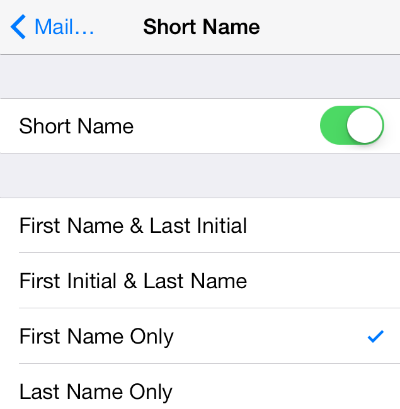 iOS 7 also sometimes displays the nickname listed on a user's contact card. Most people gave themselves nicknames when Siri and the iPhone 4s were originally launched. If you told Siri to call you something ridiculous you may want to change your nickname by opening the Contacts app and locating your info. You can then tap Edit and change or remove your nickname.
You can stop seeing your contact's preferred nickname's by also going to Settings > Mail, Contacts, Calendars > Short Name and turning off the Prefer Nicknames option.