Submitted by Bob Bhatnagar on
Jailbroken iPhones are protected by Substrate Safe Mode, which can prevent time consuming iOS restores when a tweak or app causes problems. Sometimes when a problem occurs, the device is automatically put into safe mode. This can give the iOS user time to uninstall the offending package with Cydia.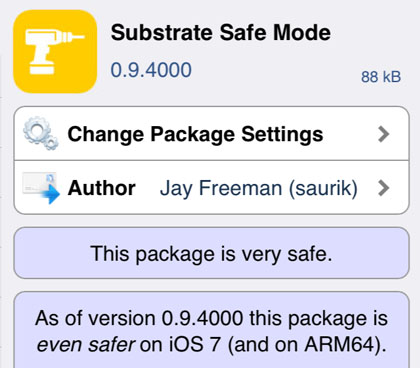 Other times, safe mode must be entered manually. If the iPhone reboots constantly or suffers other issues safe mode can be entered by holding the up volume button while booting. Substrate Safe Mode has been around for a couple of years, but with the recent updates to iOS 7 and the move to 64-bit hardware in the iPhone 5s, the package was ready for a refresh.
Saurik, the creator of Cydia has updated Substrate Safe Mode to version 0.9.4000. The update brings full iOS 7 compatibility and support for ARM64 devices. Every jailbreaker running iOS 7 should install the Substrate Safe Mode package as soon as possible, to protect against errant tweaks and repeated crashing.
To install the update, open the Cydia jailbreak app store and navigate to Sections -> Tweaks -> Substrate Safe Mode, or use the Search function to find the package. Substrate Safe Mode is available free of charge from the Cydia/Telesphoreo repository. Grab the latest version to ensure full compatibility with the latest version of Cydia Substrate and iOS 7.