Submitted by Anders Batten on
As promised, albeit a little late, iH8sn0w and winocm have delivered an untethered jailbreak for A5 devices running iOS 6.1.3-6.1.5, but their use of an unused exploit is not sitting well with some in the jailbreaking community.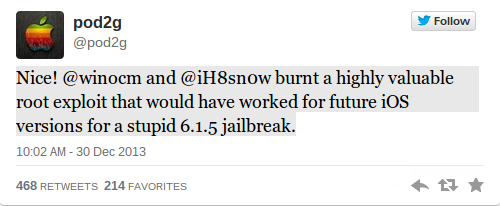 Evad3rs member pod2g took to Twitter to blast iH8sn0w and winocm for using an exploit originally found by JailbreakMe creator Comex. Pod2g believes using a "highly valuable root exploit" on older firmware was a waste of time, and he claims iH8sn0w and winocm have destroyed any chance for it to be used for future jailbreak releases. A lot of people in the jailbreaking community agree, and are worried Apple will now close the exploit since it was made public.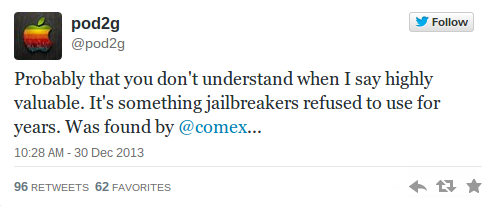 The new untethered p0sixspwn jailbreak currently available at p0sixspwn.com. As of right now there is only a Mac OS X version available, but a Windows version is expected to launch sometime in the future.