Submitted by Bob Bhatnagar on
As any Black Sabbath fan knows, some of the band's earliest releases have stood the test of time. Finally, the first eight Black Sabbath albums spanning from 1970-1978 are available on the iTunes store. The albums have been mastered for iTunes, with Apple getting an exclusive distribution agreement for a limited time.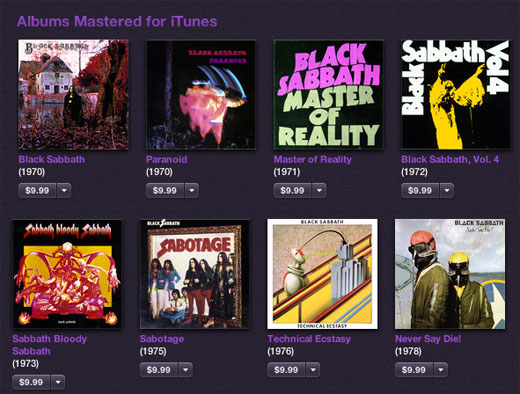 The albums, which run $9.99 include the self-titled Black Sabbath, Paranoid, Master of Reality, Black Sabbath Vol. 4, Sabbath Bloody Sabbath, Sabotage, Technical Ecstasy, and Never Say Die! as well as related compilations. For those who already own the albums on LP or cassette, here's your chance to pay for them again on the latest recording medium.
According to Rolling Stone magazine, lead singer Ozzy Osbourne was quoted saying, "It's about fucking time." All eight albums are available individually or together as a collection for $59.99, which saves Ozzy fans almost 20 bucks.
Two compilations are also available featuring music from the period. We Sold Our Soul for Rock 'n' Roll features the band's greatest hits circa 1976, and the 2006 compilation Greatest Hits 1970-1978 can also be downloaded. Both pre-Dio compilations run $12.99 for 16 tracks.
Black Sabbath was inducted into the Rock and Roll Hall of Fame in 2006, and is continuing a reunion tour with Ozzy in North America during 2014.