Messages Customiser (it's officially spelled with an s rather than a z) is a must have jailbreak tweak for those of you who like full control of your device's aesthetics. This tweak lets you change virtually every aspect of the message screen's appearance. You can download it for free from Cydia's modmyi repository.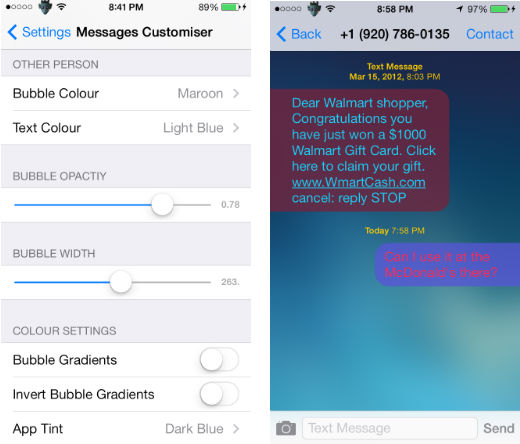 Once you have it installed, go to Settings -> Messages Customiser. Now you can fiddle with the various settings:
SMS Bubble Color
SMS Text Color
iMessage Bubble Color
iMessage Text Color
Other Person's Bubble Color
Other Person's Text Color
Bubble Opacity
Bubble Width
Bubble Gradient (toggle)
Invert Bubble Gradients (toggle)
App Tint
Background
Info Text Color
Hide Message Tails (toggle)
Flat Bubble Edges (toggle)
Show Contact Pictures in List (toggle)
Show Contact Pictures in Chat
As you can see, there is quite a bit of customizing you can do with this tweak. There are 14 colors available for the bubbles, text and background. You can also change the background to be your wallpaper, and have it blurred if you want, or use a different background image altogether. The "flat edges" make the text look like tabs coming out of the side of the screen. The App Tint refers to the "Edit", "Back", "Contact" and compose message buttons. The message app needs to be restarted for any of these changes to take effect, so just kill it in the app switcher and start it up again. Messages Customiser is only compatible with iOS 7 and it works with all devices, including 64-bit.