Submitted by Bob Bhatnagar on
Several jailbreak tweaks make it easier to adjust display brightness on the fly. For example, BrightPlayer adds a brightness slider directly to the video player controls. Now with Brightness Activator 2, iOS users can fully customize any Activator gesture to increase or decrease the brightness level.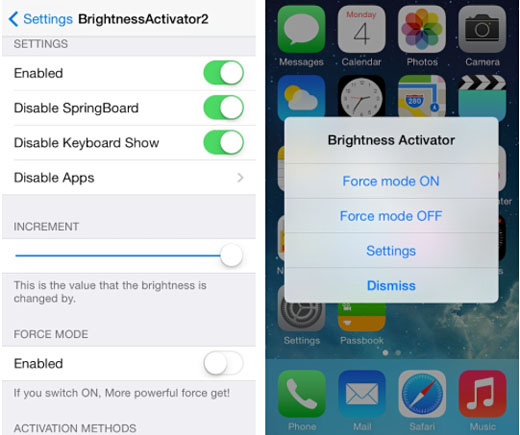 Once installed, activation methods for Brightness Up and Brightness Down can be assigned with Activator. Options include a slider to ajdust the increment, that is the value that the brightness is changed by. A toggle dubbed Force Mode will increase this increment for quicker adjustment.
Besides a toggle to completely disable the tweak, options include disabling the brightness gesture when on the home screen or if the keyboard is being shown. The tweak can also be suppressed when using individual apps, so that the gestures don't interfere. Thanks to Activator, brightness controls can even be configured to work with physical buttons, such as the volume controls.
Brightness Activator 2 is available on Cydia from the BigBoss repo for free. Jailbreaking iOS 7.1.x is now possible with Pangu. Check here for instructions on how to jailbreak iOS 7.0.x with evasi0n 7. You can also find out how to purchase and install Cydia tweaks with this guide.