Submitted by Bob Bhatnagar on
Checking current weather conditions from the lock screen can be a one step process with Notification Center properly configured. Swiping down from the top of the display will show current conditions and describe the high and low temperatures in the Today view. What if there was a way to display this information directly in the lock screen?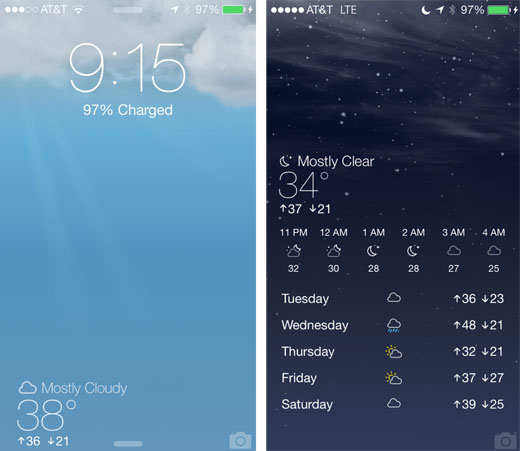 Those with jailbroken devices can do just that with Forecast. The tweak has been updated for iOS 7 to completely integrate local conditions and forecast information from the stock Weather app onto the lock screen. Once installed, the unlock slider disappears and current conditions with high and low temperatures are displayed in the lower left corner of the lock screen.
No reason to pull down Notification Center to see the current conditions, they're always right there, along with the time and date. Swipe right to left and the forecast page is displayed, all without unlocking. Of course, unlocking the iPhone is possible by swiping left to right anywhere on the lock screen.
By default, Forecast will replace the lock screen and home screen wallpaper with background animations from the Weather app. While this can be a great way to see current conditions at a glance, Settings -> Forecast provides options to turn off animation or remove the weather backgrounds, to restore whatever wallpapers are selected on the device. Other options include weather and forecast darkening, in case the selected wallpaper is too bright for the default white text to be legible.
Forecast for iOS 7 is slick and incorporated so well into the lock screen, it's hard to believe it wasn't included from the very beginning. Forecast will always display weather information based on current location as determined by iOS 7 and the stock Weather app.
Forecast can be found on Cydia in the ModMyi repository for $0.99. Look here for instructions on how to jailbreak iOS 7.x with evasi0n 7. You can also find out how to purchase and install Cydia tweaks with this guide.