As one would expect, many tweaks for the Control Center have emerged since the iOS 7 jailbreak became available. The Control Center is meant to be one of the main user interfaces and, as such, users are going to want to customize it to fit their needs appropriately. Tweaks like CCControls and FlipControlCenter allow you to customize the toggles found within the Control Center - which ones are available and how they appear. The new jailbreak tweak CCQuick adds functionality to the Control Center by letting you access different apps from the CC, letting you kill background apps, giving you access to the hidden Springboard settings and letting you customize the background color.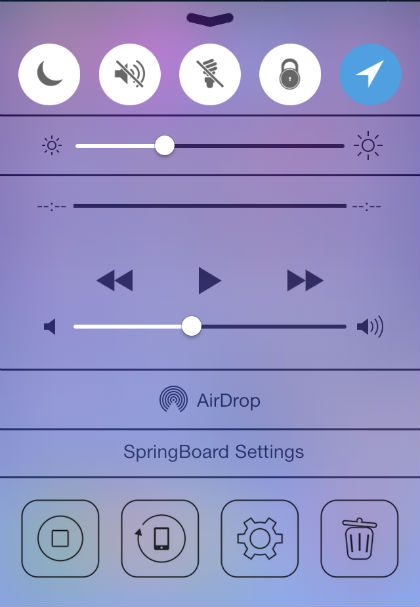 You can find the CCQuick tweak in Cydia's BigBoss repository. Once you have it installed go to Settings->CCQuick. You will now have the option to change the Control Center background color, change the default apps in the Control Center, and change the kill app settings.
Changing the background color is simple enough. Tap the "BackgroundColor" option and then switch the toggle to on. Now you can adjust the red, green, blue and alpha
settings for the Control Center background.
The "DefaultPage" setting allows you to change which apps show up on the bottom row of the Control Center. The "System" option lets you stick with the stock apps (Flashlight, Timer, Calculator, Camera). The "CCQuick" option gives you four different icons. The first is a virtual Home key, which functions as the home button but allows you to avoid the wear and tear of actually hitting the home button. The second button restarts SpringBoard. The third gives you access to Springboard's hidden settings and the fourth is a kill all running apps button. The last DefaultPage option is "MultiTask", which shows you your currently running apps. Regardless of which default page you pick, you can get to the others simply by swiping left or right.
CCQuick also lets you change the settings of the kill all apps function. In the "Kill Background App" section in the CCQuick settings you will see toggles for "KillSelf" and "KillMusic". If you toggle the first one on, the kill app button will kill all background apps, including whatever app you are in when you access the Control Center. If it's off then the app you're in won't shut down. The music option is basically the same, if it is on whatever music you are listening to when you hit the kill background apps button will stop playing.
CCQuick is free and is compatible with all iOS 7 devices, you can find it in Cydia's BigBoss repo.