Submitted by Marshall Walker on
You can keep your browser and search history secret by enabling "private" browsing on Mobile Safari. This feature does not keep your browser history safe from third-parties like your internet provider, employer, or websites that track user data, but it does save you time from having to clear your Safari web browser cache every time you visit a page that you want to keep private. Here's how to enable private browsing on Safari: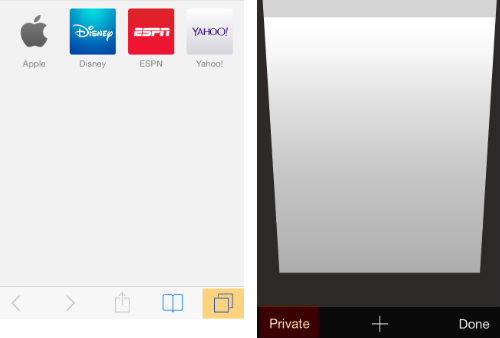 1. Open the Safari app from your Home screen
2. Tap the double square icon on the bottom left-hand side of your display
3. Tap "Private"
You will know you are in private mode when the search / navigation bar turns black.
Chrome users can use Google's "Incognito" mode to surf the web privately. To open an incognito tab, tap the the three bars located next to the navigation bar in the Chrome app, then select the "New Incognito* Tab" option. Any pages visited while using this tab will not be recorded in your browser or search history. Cookies will also be cleared after your close the incognito window, but all downloads and bookmarks you create will be preserved.