Submitted by Marshall Walker on
There's nothing more frustrating than typing in those long iTunes gift card codes, especially when you make a mistake and have to start all over again. Thankfully Apple has decided to make the process easier by adding the ability to redeem a gift card by using your device's camera. Twitter user Beau Giles discovered the new feature and tweeted the screenshot below. iTunes 11 gave the same feature to Mac users who can now use their FaceTime cameras to redeem gift cards also.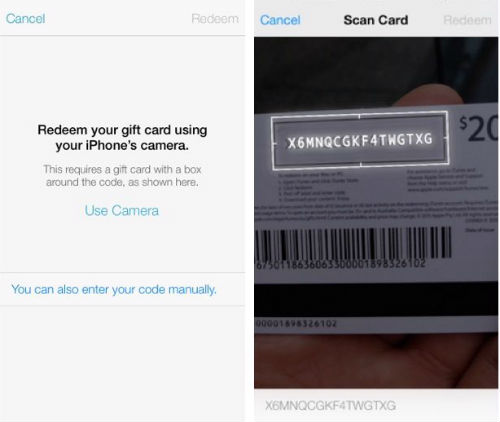 To use the new iOS 7 camera gift card feature, go to the App Store app, and tap the Redeem button at the bottom of the Featured page. You can then choose to enter the code the old way, or use your iPhone's rear iSight camera to snap a picture. The gift card needs to have a "gift card with a box around the code" for it to work.
Apple also added the option for developers to allow users the ability to scan and recognize barcodes with the camera when using an app. Here is the new listed "Camera, Photos, and Video" changes listed on the Apple Developer page. You need an Apple developer's account to access the "What's New in iOS 7," section, but you can see the other custom camera controls Apple has brought to iOS 7 from the description below.
"Let your users capture and compose photos and videos just the way they want. Capture video at 60fps, so you can replay dramatic scenes in slow motion. Get a closer look by directly controlling the zoom level of the camera. Create video effects and transitions by combining multiple video tracks using the custom video compositing APIs. Scan and recognize barcodes with the camera."