Submitted by Marshall Walker on
Apple quietly rolled out iOS 7.0.3 after the iPad Air event on Tuesday. The update brings back features like iCloud Keychain support, the ability to search Wikipedia from Spotlight and it fixes a few things like the accelerometer calibration issues. As you can see from the image posted below, Venture Beat has proved that Apple's fix has worked and "sensor-gate" should be over.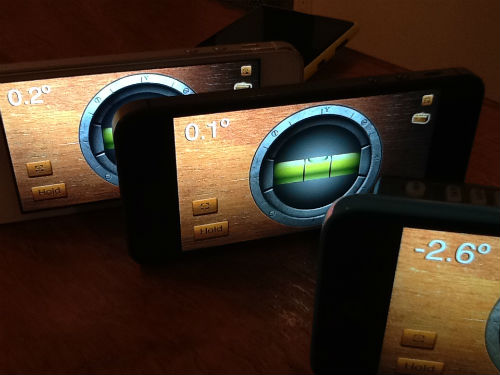 The image shows an iPhone 5 (the far phone) without 7.0.3 reading .2 degrees off level and an iPhone 5s (middle phone) with the iOS 7.0.3 fix reading .1 degrees of level. The nearest phone is an iPhone 5c which demonstrates the original sensor issue.
Apple also fixed an iMessage bug that was keeping some users from sending messages, and a "bug that could prevent iMessage from activating." iOS users can now search the web and Wikipedia directly from Spotlight. Just pull down from the middle of your Home screen to open Spotlight Search and type in what you're looking for.
Here's the iOS 7.0.3 changelog:
- Adds iCloud Keychain to keep track of your account names, passwords, and credit card numbers across all your approved devices
- Adds Password Generator so Safari can suggest unique, hard-to-guess passwords for your online accounts
- Updates lock screen to delay display of "slide to unlock" when Touch ID is in use
- Adds back the ability to search the web and Wikipedia from Spotlight search
- Fixes an issue where iMessage failed to send for some users
- Fixes a bug that could prevent iMessage from activating
- Improves system stability when using iWork apps
- Fixes an accelerometer calibration issue
- Addresses an issue that could cause Siri and VoiceOver to use a lower quality voice
- Fixes a bug that could allow someone to bypass the Lock screen passcode
- Enhances the Reduce Motion setting to minimize both motion and animation
- Fixes an issue that could cause VoiceOver input to be too sensitive
- Updates the Bold Text setting to also change dial pad text
- Fixes an issue that could cause supervised devices to become un-supervised when updating software