If you often have a lot of text message conversations going on simultaneously, you will definitely want to install the MessageSwiper7 tweak from developer MattCMultimedia. There's not much to it, but it will save you time and maybe some aggravation which, after all, is half the reason we tweak our iPhones.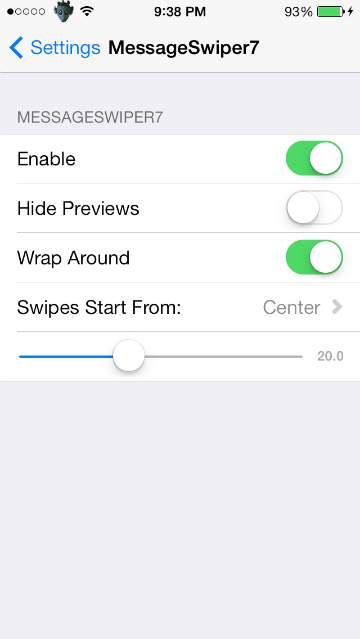 MessageSwiper7 lets you swipe from one text or iMessage conversation to another without having to go back to the main window that lists your conversations. That's all there is to it, but it effectively cuts out 50% of the effort - instead of going back
and choosing a conversation you can simply swipe back and forth between several. Once you have it installed you can go to Settings -> MessageSwiper7 to set your preferences. Here you can toggle the tweak on or off, hide message previews, toggle wrap around and choose where the swipe motion starts from. If you have preview turned on you will see a small preview of the next conversation before switching to it. If you don't want to go to that one, simply reverse your swiping motion. You can also choose to swipe from the center or the edges. Since swiping from the left edge already takes you back to the main window and swiping from the right shows you message times, your best bet is to choose to swipe from the middle. There is also a slider that lets you choose the length of a swipe.
If you want to navigate your conversations a little quicker, you can find MessageSwiper7 in Cydia's BigBoss repository. It is free, requires iOS 7 or better and, of course, a jailbroken iPhone.