Submitted by Bob Bhatnagar on
Spruce up an iPhone reboot with custom sound effects by installing EventOnStart. This jailbreak tweak provides a list of sounds that can be configured to play when iOS resprings, or when an iOS device is switched on. In addition to sounds, other events can also be initiated.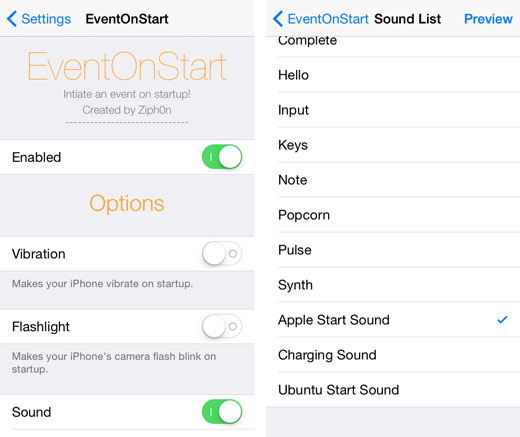 Besides a toggle to enable the tweak, EventOnStart has a variety of settings. The iPhone can be configured to vibrate on startup and there's an option to have the LED camera flash blink. A welcome message can also be entered, which will display on startup.
While all of these things can make the reboot process more interesting, the Sound List in Settings might be the most interesting. Besides a long list of stock iOS sound effects, users can choose the Apple Start Sound. This will appeal to Mac fans looking to add some novelty to their iPhones.
EventOnStart is available from the BigBoss repo on Cydia for free. To start customizing iOS, click here for instructions on jailbreaking iOS 8.0-8.1.2. Those with older firmware can jailbreak with Pangu (iOS 7.1) or evasi0n 7 (iOS 7.0). Find out how to purchase and install Cydia tweaks with this guide.
Follow the
iPhoneFAQ Twitter feed
and
stay tuned to Facebook
for the latest jailbreak tweaks and news.