Submitted by Bob Bhatnagar on
Audio lovers will enjoy the iOS jailbreak tweak EqualizerEverywhere. Not only does this package add an easily-accessible equalizer to the Control Center, but the sliders will adjust audio from any app, including phone calls. Once installed, EqualizerEverywhere provides frequency adjustments as well as buttons for Flatten and Presets access.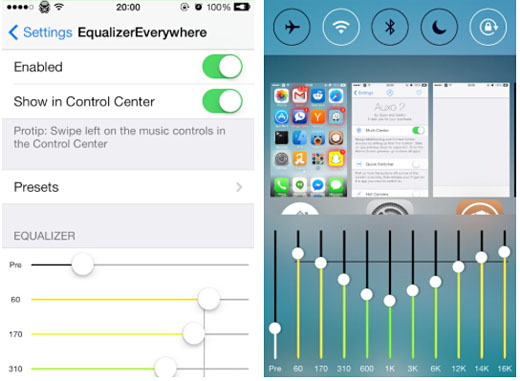 There are several included presets including Earbuds, Pop, Reggae, Techno, Full Bass, and more. Your own presets can be saved to the list, and any unwanted presets can be deleted with a swipe. Choosing which preset to listen to from the Control Center makes it easy to quickly adjust the flavor of the audio to suit a specific genre.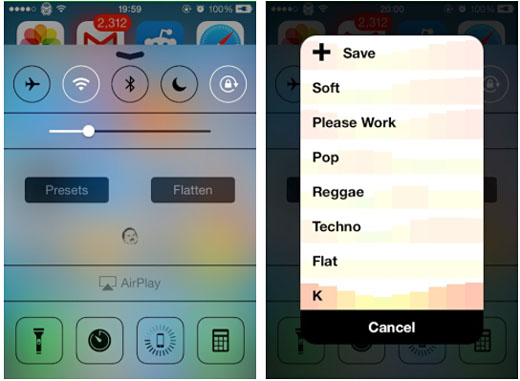 The equalizer can be accessed by swiping from right to left on the audio controls. Presets and the equalizer itself can also be managed through the settings panel, and the tweak can be disabled entirely with a toggle. When adjusting bands, the changes in audio output can be heard immediately, making it possible to tweak sound on the fly.
EqualizerEverywhere features 10 bands, preamp, Auxo 2 access, and is compatible with Auxo 2, CCLoader, InsomniaScreenX, iOS 7.0.x and iOS 7.1.x.
EqualizerEverywhere is available on Cydia from the BigBoss repo for $3.00. Jailbreaking iOS 7.1.x is now possible with Pangu. Check here for instructions on how to jailbreak iOS 7.0.x with evasi0n 7. You can also find out how to purchase and install Cydia tweaks with this guide.