Submitted by Bob Bhatnagar on
Volume buttons on the side of the iPhone have always made it easy to adjust volume from anywhere. At times, the process can be confusing as there are separate volume settings for the media player and ringer. For example, pressing a volume button while the Music app is open will adjust media volume, but the ringer loudness will not change. The jailbreak tweak SwitchHUD brings a new way to control each volume setting at any time.
Once installed, SwitchHUD works by associating the volume heads-up displays with Activator actions. When SwitchHUD is invoked using the associated gesture, the volume setting HUD can be cycled between the ringer and media player instantly. While the volume HUD is visible, the level can be adjusted with the volume buttons on the side of the device.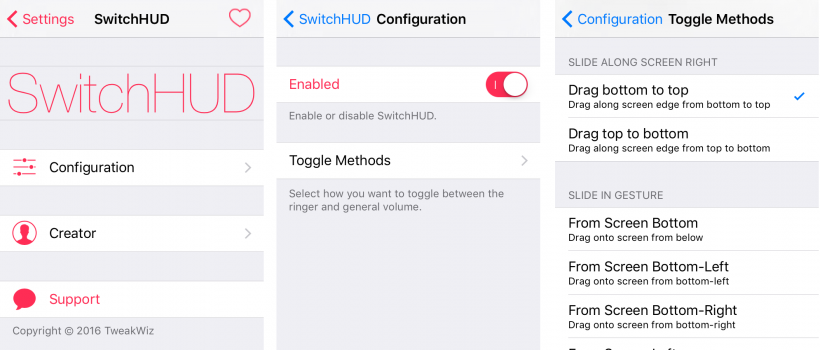 Settings -> SwitchHUD -> Configuration includes a master toggle to enable or disable SwitchHUD. In addition, Toggle Methods can be defined with Activator actions. The toggle method Volume Buttons -> Display Tap will switch to the opposite volume HUD when the HUD is tapped. However, this only works once until the HUD is re-displayed.
Using a gesture such as Slide Along Screen Right -> Drag bottom to top makes it possible to show each volume HUD and switch back and forth, simply by repeating the gesture. This way you can quickly see the current volume levels and adjust if needed. SwitchHUD comes in handy for quickly changing the ringer level while a song is playing, or for bypassing the Control Center when you need to adjust media volume before music or video starts playing.
SwitchHUD is free to install on the Cydia app store. To start customizing iOS,
click here for instructions on how to jailbreak iOS 9 with Pangu
. Find out
how to purchase and install Cydia tweaks with this guide
.
Don't forget to follow iPhoneFAQ on Twitter and connect with us on Facebook for the latest jailbreak tweaks and news.