Can I update my jailbroken iPhone to iOS 7.1?
Updating a jailbroken iOS device to iOS 7.1 is possible, however the jailbreak will be lost. Apple has patched multiple exploits used by evasi0n 7 in the iOS 7.1 firmware update.
This means that iPhones, iPads and iPod touch units running iOS 7.1 cannot be jailbroken.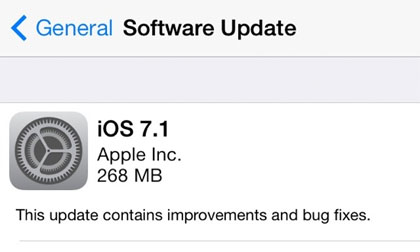 Do not install iOS 7.1 if your iOS device is jailbroken, unless you want to return to stock (unmodified, not jailbroken) iOS and prevent the possibility of jailbreaking this device in the future. Once iOS 7.1 is installed, users cannot jailbreak or restore to an earlier version of iOS.