How do I save both normal and HDR photos to the iPhone camera roll?
iPhone photographers have the option to save both a normal version of a photo and HDR version when using the stock iOS camera app. Saving both versions of the image requires that a toggle in settings be enabled. Otherwise, HDR mode will only save the HDR photo, discarding the normal version.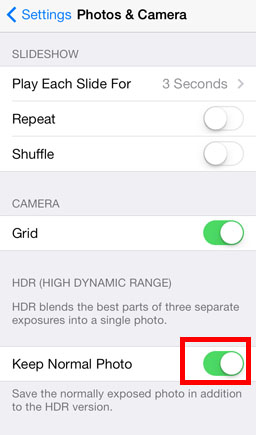 To enable Keep Normal Photo follow these steps:
1. Navigate to Settings -> Photos & Camera
2. Scroll down to Keep Normal Photo under HDR (HIGH DYNAMIC RANGE)
3. Toggle the switch to ON (green slider)
From now on, the iOS camera app will save both versions of each HDR photo on the camera roll. HDR photos are labeled HDR, while normal photos are not.