Submitted by Bob Bhatnagar on
Modifying the look of icon badges is a simple way to customize the iOS home screen. Now thanks to the jailbreak tweak MagicBadges, iOS 7 users can enjoy a fresh badge design by configuring a few options. Once installed, applying changes to icon badge numbers system-wide just requires a quick respring.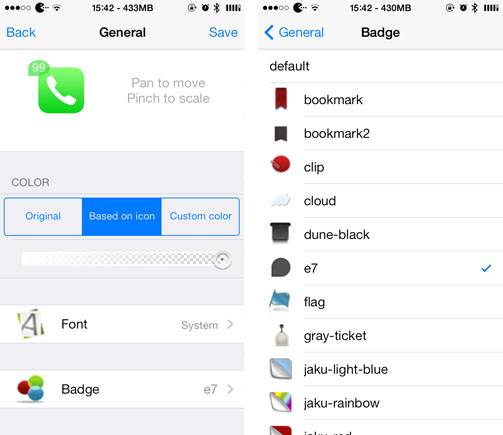 Aside from a toggle to disable the tweak entirely, the magic in MagicBadges happens under Settings -> MagicBadges -> General. Here iPhone users will find a live preview of what the badges will look like after changes are applied. Altering settings updates the preview immediately.
The position of the badge in relation to each icon can be adjusted directly in the preview by holding and dragging inside the preview window. Similarly, the size can be changed by pinching, which scales the badge background and number text.
Below the preview window are fonts and badge shapes that can be selected to make the design even more unique. Color settings provide several options, including sliders to create a custom color from scratch and adjust badge transparency. One nice feature of MagicBadges is the "Based on icon" color setting. This automatically adjusts the badge colors to match their associated app icons.
Once MagicBadges is configured to your liking, a built-in respring button is conveniently located in the tweak settings to apply changes.
MagicBadges is available from Cydia on the BigBoss repo for free. Check here for instructions on how to jailbreak iOS 7.x with evasi0n 7. You can also find out how to purchase and install Cydia tweaks with this guide.