Submitted by Anders Batten on
T-Mobile today announced the continuation of its "Un-carrier revolution" by rolling out the first of three new data plans geared towards "value-conscious Americans". The company's first offering is the Simple Starter value plan which gives users unlimited talk, text and up to 500MB 4G LTE data for only $40.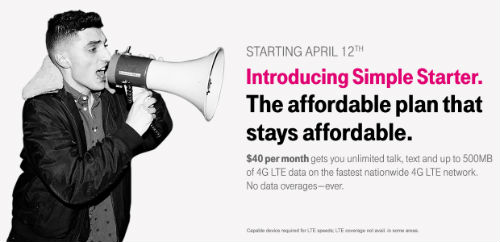 Users who exceed their 500MB bandwidth cap will have the opportunity to buy "additional data sessions" instead of being hit with extra charges, according to the official T-Mobile announcement.
"Today, we are introducing a zero-risk value plan that will give consumers everywhere a predictable and affordable solution," said Mike Sievert, Chief Marketing Officer for T-Mobile. "Even more important, we are the only major U.S. carrier to offer a single line of 4G LTE data at just $40.00 per month."
T-Mobile CEO, John Legere says the company's new plans are an "alternative to the high-risk, overage-intensive plans that the biggest carriers target directly at Americans looking for entry-level wireless service".