Submitted by Anders Batten on
Atari riled up RollerCoaster Tycoon fans by teasing them with the hashtag #RCT4M on Twitter for a few weeks before dropping an official trailer in March. However, the only release info announced was that the game would be available sometime in the "early spring," and it looks like spring has officially arrived.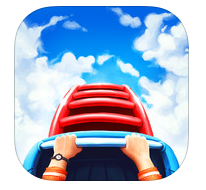 RollerCoaster Tycoon 4 Mobile popped up on the App Store this morning for $2.99. The mobile version of the hit franchise allows users to create and share their own amusement park on their iPod touch, iPhone or iPad. The game includes 20 pre-designed coasters, over 50 different attractions, restaurants, concession stands and so on. Users can also unlock new materials and share roller coaster blueprints with other users.
The game is already being met with mostly negative reviews on popular mobile gaming websites. Users are not happy that Tycoon 4 features building wait times and in-app purchases, especially since the title is not free to download. You may want to wait until more user reviews are posted to the App Store before buying this game.