Submitted by Sammy Snyder on
After offering Glass to the general public for $1,500 during a one-day online sale, Google has announced that it will be rolling out a new update to its wearable device. The upgrade will add the ability to display iOS text messages on Glass, but "due to some limitations," users will not be able use Glass to respond to any iOS messages. Glass users will be able to enable the new SMS for iPhone feature by navigating to their Bluetooth settings and turning on "Show Notifications".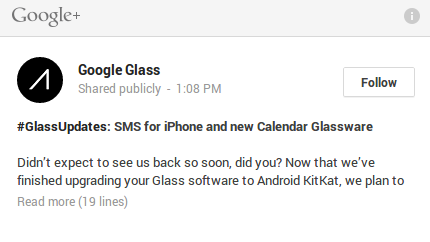 Google is also adding a new Calendar Glassware tab in MyGlass, which will allow users the ability to see their agenda on their home screen. Users will also be able to tap a calendar card to change the title, time and location. Both new Glass features will be available in the "next few days," according to the official Google+ announcement.
Google did not reveal how many Glass units it sold during its one-day online sale, but the Cotton white version did sell out before the sale ended. Google said sales were moving "really fast" and that the company was "happy to see so many new faces in the Explorer Program."
Google also added that they are "trying new ways to expand the Explorer program in the future."
It has been estimated that Google had already moved 10,000 Glass units to early adopters before the public sale last week.