Submitted by Sammy Snyder on
Applebee's lovers can now share their love of 2 for $20 meal deals by downloading the free WhatsApplebee's app from the Apple App Store. WhatsApplebee's is an "anonymous real-time chat service" that connects fans of the fast food chain, but only while they are actually inside an Applebee's restaurant. This feature allows users to know they're only being connected to true Applebee's aficionados, and not internet trolls looking to spoil a good time.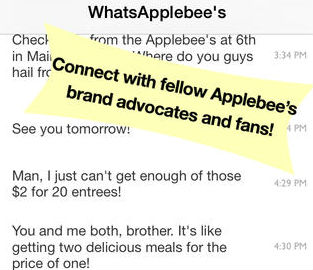 The app was created by developer Michael Lazer-Walker, not Applebee's itself. Walker designed the app as a joke telling Engadget, "I've seen so many apps that seem like they're a parody of Silicon Valley culture but are in fact real, actual products. I wanted to create something just on the other side of that line - something that's clearly a terrible idea, but not SO outlandish compared to the current state of things that you might, for a second, believe it's real."
Walker has succeeded in his mission of creating a convincing app. It is easy to believe WhatsApplebee's is a serious offering at first glance, however, most people will realize it is a joke upon further investigation of its App Store listing. If the provided screenshots don't give it away, then the funny but fake customer reviews will.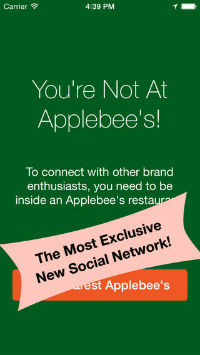 According to Engadget the app works (I can't get it to install on my phone for some reason) and anyone within "around 100 meters" of an Applebee's is free to chat anonymously with other users.
"I originally thought of making it pseudo-anonymous, with each user being given a randomly-generated username/avatar (a la the app Secret), but laziness prevailed," Walker explained.
Walker doesn't seem interested in adding any new features such as the ability to upload photos, but he may change his mind once WhatsApplebee's becomes the new Flappy Bird of the App Store.
WhatsApplebee's is free to download from the Apple App Store. It requires iOS 7.0 or later and a desire to eat crappy food for it to work.