Submitted by Anders Batten on
Starting today, Apple users can listen to the live ESPN Radio network stream on their iPhone, iPad and iPod touch running iOS 7.0 or later. ESPN Radio is the first sports provider on iTunes Radio, and it will stream the same content as its terrestrial radio counterparts.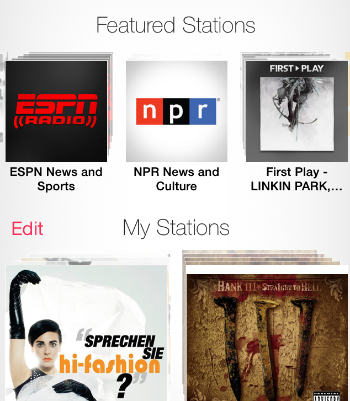 Sports fans will be able to enjoy sports talk shows including Mike & Mike, The Herd with Colin Cowherd, SVP & Russillo, just to name a few, and live events like the 2014 FIFA World Cup and Major League Baseball, including the World Series. ESPN said they are also looking to "bring expanded local station content to its listeners in the future," and noted that its ESPN podcasts and on-demand content will still be available for download on iTunes.
NPR also delivered on its promise to add local affiliates to its iTunes Radio station. NPR became Apple's first talk radio station in March, and like ESPN it also streams live content. Both the NPR and ESPN stations can be found in the iTunes Radio section of your device's Music app, or on the desktop version of iTunes on your Mac or PC.
All iTunes Radio stations are ad-supported and free to use.